Trade Fair Catering Munich
There is something that contributes to the way customers perceive your company at a trade show besides your services or the products you present: the food and drinks you serve. Present your company in the best way possible by employing event to rent for your trade fair catering in Munich or any other major European exhibition venue such as Hanover, Berlin, Hamburg, Paris, Milan, Barcelona, or Amsterdam.
We offer trade fair catering, including fine food, delicious drinks, and excellent service, that is perfectly tailored to your wishes – either as a delivery service or as a convenient full-service concept.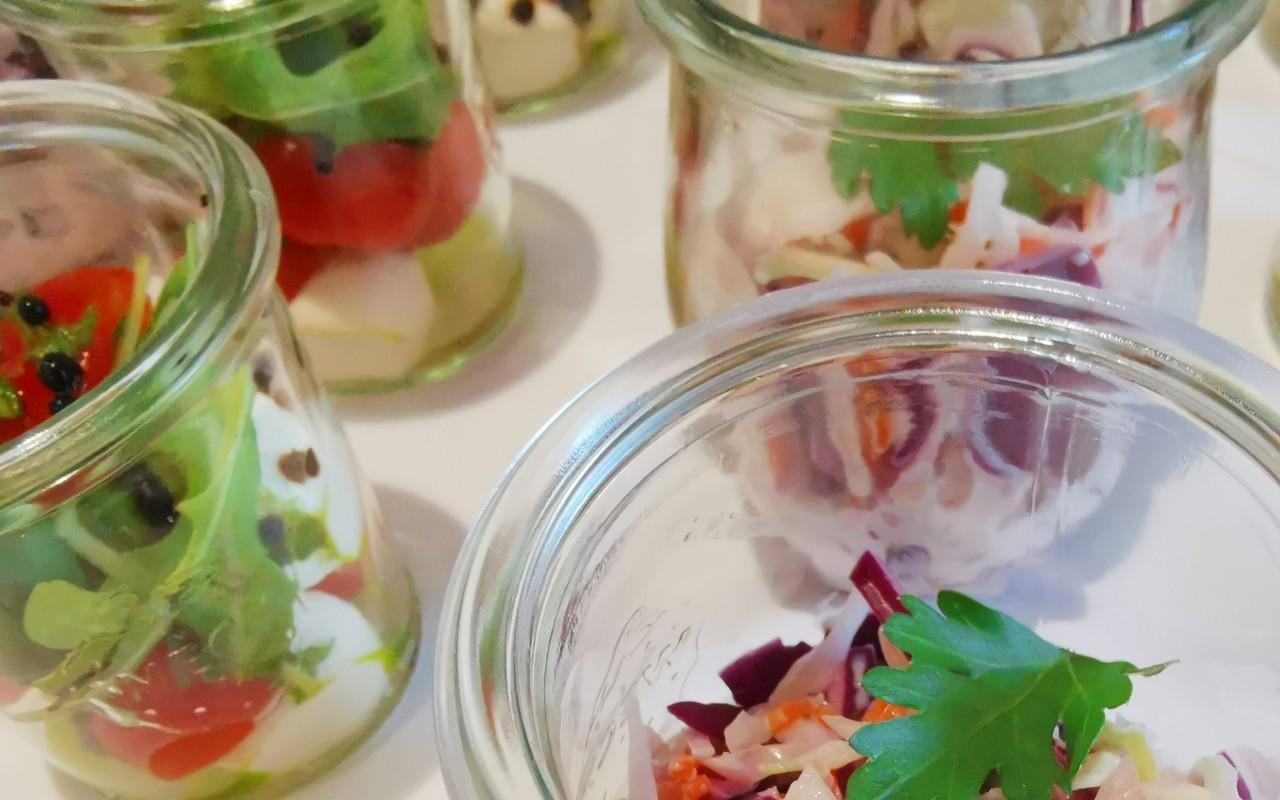 event to rent – your fair catering expert in Munich
For more than 30 years, we have been delivering professional high-quality catering for corporate events such as conventions, conferences, and trade fairs. Whether you are planning an exhibition in Berlin, Hamburg or Hanover, or an international trade show appearance in Paris, Milan, Barcelona, or Amsterdam: As a Munich-based catering company, event to rent provides comprehensive fair catering at the location of your choice. You have special dietary requirements for the food at your exhibition booth? We also offer vegetarian or vegan options.
Our experience in the trade fair catering business means that we know what you need. And with all the time and effort that goes into organizing your exhibition stand, that is: The least additional hassle with coordinating those efforts with your catering company. For this reason, we specialize in full-service solutions that save your time and resources – so you can focus on making your trade show appearance the greatest it can be. Upon request, we therefore create an overall gastronomic concept for your fair stand and coordinate our event planning with your booth builder.
Please contact us with your specific requirements and we will provide a customized offer for the professional fair catering option of your choice in Munich or any other European location.
Fair catering: from simple refreshments to culinary delight
We design an overall gastronomic concept to help make your trade-fair appearance successful. Trade shows are a busy and exhausting experience for both your team and the visitors. Offer your customers and other interested fairgoers the opportunity to recover from the stress of the day with a nice cup of coffee – and get a chance to impress. Welcome visitors to your booth with cold drinks or coffee specialties made by our professional baristas. Or attract guests with delicious cocktails, created on the spot by our skilled bartenders.
You want to serve more than just drinks for your fair catering? As an experienced exhibition caterer from Otterfing near Munich, we organize anything from simple refreshments to large buffets with a variety of delicious meals. Our full-service catering includes not only various food and drink options, but also the staff and equipment you need.
High-quality & ecologically sustainable
Quality and ecological principles are very important to us. The ingredients for our trade fair catering we obtain as far as possible from our regional partners in the Munich area. We value sustainable production. The meat we prepare also comes from animals raised in a species-appropriate manner.
In compliance with the highest hygiene standards, environmentally friendly packaging, we deliver your catering orders on time directly to your booth.