Catering for your corporate event in Munich, Germany and abroad: With us your celebration will be unforgettable
The maxim of every project: Full service from one source!
We accompany you in your planning from the very beginning. This way we guarantee the perfect realization of your wishes! From food and drinks to locations, service staff, matching decoration and equipment.
In doing so, we adapt ourselves completely to the given occasion: Be it a company event to reward your employees around Munich for their performance, or a customer or partner event. Of course, we are also available as a caterer for your company or Christmas party. We can fulfill (almost) every wish!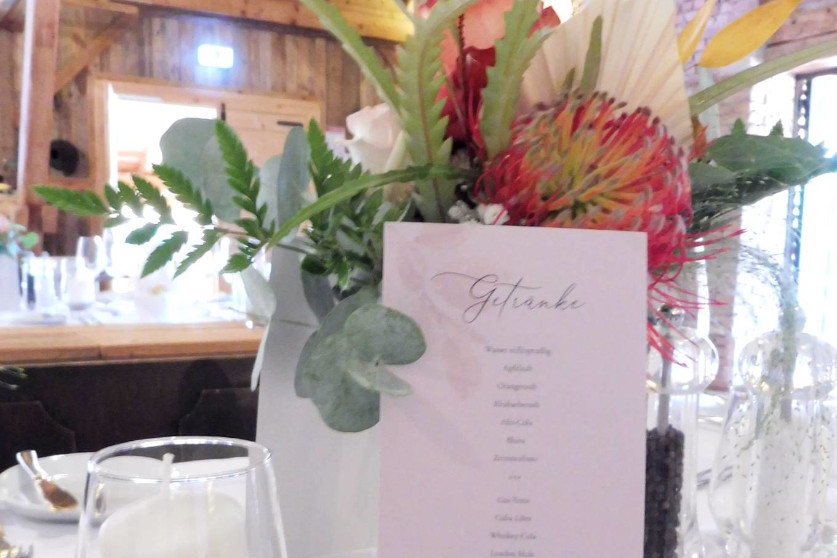 Culinary delights for all corporate events in Munich and the entire region
Excellent work deserves the same appreciation. Your company event in Munich and the entire region can also serve to motivate your employees to new peak performances or to express your appreciation to your customers.
Direct your focus especially on the catering, because this is where the success of the event will have to be measured. We also deliver perfectly coordinated catering at the highest level for training courses, seminars and other customer events or team events.
No matter whether it is a teambuilding measure, a kick-off event, a company anniversary or a corporate event for business partners and interest groups such as the press – we plan and implement the ideal catering for you.
Perfect drinks at your corporate event in Munich or at almost any other location
The choice of drinks also needs to be well thought out. As an expert for corporate events in the Munich area, event to rent recommends not only focusing on alcoholic drinks. Offer also with the soft drinks exciting variants to water, cola & Co. We will be happy to coordinate the choice of drinks with you according to your chosen motto.
Coffee & more
We are happy to provide you with coffee specialties and serve your guests exquisite teas – optionally in between or classically in the afternoon with a delicious piece of cake.
Nothing beats a good drop
Depending on the business occasion, we provide suitable wines to complement the meal, cocktails and other alcoholic delights that can round off a successful event in the evening.
Premium quality food, beverages and staff
event to rent provides your corporate event with food made from high-quality, fresh ingredients, as seasonal as possible and from the Munich region. We pay attention to sustainability and animal welfare in the processing of meat.
Just as high standards as in the preparation of the food we apply to the choice of our service staff. Our employees are qualified and are characterized in particular by reliability, courtesy and discretion.
Exclusive locations & equipment for your Munich corporate event
Provide an extra portion of motivation for your employees and let us organize a company party that will remain in the memory of your employees for a long time. Or bind your customers and partners to your company with extraordinary company events around Munich.
Our team will be happy to assist you in choosing a suitable location. We know the top addresses in the area and have access to exclusive insider tips. We will gladly take care of a stylish, varied decoration and equipment – according to your ideas. We are also the right partner for the management of an exquisite entertainment program. Get in touch with us.